Traveling Light: How to Make More out of Less
Posted in
Blog
By kelly
Traveling Ultra Light: In most situations Less is usually More
 by: William McKinney
President, Bradley's Military Surplus
One of the most valuable lessons I learned from my field training in the military was the importance of traveling light. I will confess this concept wasn't promoted by the Army or my chain of command during my days of service. In contrast, the Army's motto at the time was "Be Prepared." Heavy loaded packing lists were made, soldiers were expected to carry everything on these lists, and NCOs conducted regular inspections to ensure soldiers packed everything according to standard operating procedures. Lower enlisted soldiers were required to pack mess kits, shelter halves, and many other things that were never used. It didn't matter that soldiers didn't need an item, or some soldiers backpacks weighed as much as 80 pounds. We were still required to pack everything on these packing lists…..but I usually found a way to cut a corner. Yes, I presented all items for the inspection process, but I found a way to ditch what wasn't necessary as quickly as possible. Usually, I found a way to dump the excess weight before I left garrison. If I couldn't jettison the luggage in the rear I actually bagged items and bury them in the ground shortly after I went to the field. When the field problem was over I would return to the training area and retrieve my belongings.
Although this is a rough estimate, I believe I carried half of what the average soldier packed. I placed much thought into what I put into my rucksack. I packed my backpack as efficiently and effectively as possible. I never carried any excess waste or extras. I didn't even carry luxury items such as candy or tobacco. I focused on traveling light, and it paid substantial rewards again and again. When the average soldier was tired and the weak fell out of forced road marches I had excess energy to burn. I was light and comfortable, and I empathized for those who over packed. Sure, there were times when I was cold, hungry, bored or unprepared. Yes, there were times when I wished I packed something I didn't bring to the field, but this didn't happen often. During my first 2 years of service I learned from my mistakes, and I learned how to pack my bags better. Eventually I knew exactly what I needed to pack, and it actually became a routine. 20 years later, I am still putting my skills at traveling light to good use. 2 weeks ago I traveled to Santiago Chile, Buenos Aires Argentina, Montevideo Uruguay and El Calafate Argentina.  Here I just arrived in Chile:
During this 2 week period I lived out of a
3-Day Assault Pack from Rothco
. The pack's dimensions are 20" X 12" X 7," and it weighed roughly 20 pounds fully loaded.  Here's a visual so that you can see how it's structured:
As you can see, it's substantially smaller than a backpack but thanks to it's versatile design and 3 compartments it is both efficient and effective.
I was able to fit the following items in my assault pack:
4 x cargo shorts
4 x underwear briefs
4 x socks water shoes
4 x tank tops
Grid fleece trousers
Polypro shirt
Fleece cap
2 x paperback books
550 cord (50 ft.)
Neoprene gloves
Alarm clock
Small fishing reel
Small tackle box
Toothbrush & case
Rain jacket
On my body I carried the following items:
GI ICWB boots
Socks
Polar fleece trousers
Underwear
T-shirt
Polar fleece jacket
2 x wallets
Passport
3 x dog tags
Paperwork
Attachable lanyard
Although many people would suggest that I carried too little I was pleased with what I brought. This is especially true considering the weather conditions I faced in Montevideo Uruguay ranged in the upper 80s while they fell close to freezing in Patagonia Argentina. Despite this wide temperature range I still was comfortable. This is largely due to packing light and using some of Bradley's products. I regularly find these military products are ideal for lightweight backpacking. Like the average soldier the average civilian tends to prepare for every possible outcome, and he or she packs away as much as possible. I might be wrong, but I would suggest that people tend to be hoarders by nature. The average individual tends to pack their luggage with too much weight. Although this makes many feel secure it also causes them to be cumbersome, heavy and exhausted. In most cases, travelers don't realize how much the "ball and chain" saps their energy. They merely want to ensure they have everything they need regardless of their circumstances. This is both unrealistic and unpractical. I have found that the lighter I pack the more I enjoy myself. Since I'm a civilian these days I also found there are more options as I travel. Allow me to share some of my traveling tips with you.
The Disposable Approach:
As I prepared for my trip to South America I packed items that I planned to throw away as my vacation unfolded. I packed worn out underwear, socks, shorts and shirts. Even my water shoes were badly worn, and I planned to dump them once I needed more room. Based on the unique situation, I figured that I wouldn't be smart enough to pack everything I needed, so I would buy anything that was required as my vacation unfolded. The "pay as you go" and "dump what you don't need" approaches worked very well for me.
The little or nothing approach:
I chose to pack my small assault pack as full as possible and dump what I didn't need, but another wise approach would be to pack virtually nothing. Simply take your backpack, pack a few items you're sure you'll need and buy what you need as you travel. This may be a more expensive way to travel, but it may be the best approach based on the situation. It also leaves you plenty room for souvenirs.
The store it away approach: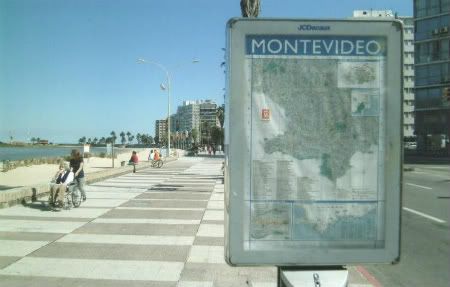 When I first arrived in South America I spent my time in hot weather regions. I explored Santiago Chile, Buenos Aires and Montevideo Uruguay. All of these cities were experiencing hot sunny weather and temperatures were ranging from 78 F to 88 F. During this part of my trip I used shorts, tank tops and water shoes. Before I left for the cold weather regions of Patagonia I pack my summer clothing in a plastic bag, and I asked the hotel staff to store away my belongings for 4 days. The staff was more than happy to assist me with this task, and it was very much appreciated. It lightened my carrying load, and it allowed me to focus on the 32F to 55F weather I would face in El Calafate Argentina.
Note the climate as pictured in this photo I took while in Patagonia. Cool, dry and absolutely beautiful.
The Double Wallet Approach:
Before I went on my trip I did research and discovered that most of the larger South American cities have substantial problems with petty crime. Based on this knowledge I focused on protecting my belongings. My security strategy focused on a double wallet approach. I carried one wallet in my front pant pocket. I clipped a lanyard onto this wallet and attached it to my shorts. My second wallet and passport was carried in a hidden pocket in the crotch of my underwear. Before I left home I had Bradley's sewing staff build a pocket inside of my underwear. This pocket was sealable using Velcro. The main concept behind this strategy was to carry very little money and no valuables in my short pocket. If someone robbed me I would give them the "dummy wallet." Hopefully, I would be able to protect my valuables by offering this decoy. Since I never faced a robber I don't know if this is an effective approach, but I like the concept.
The Military Approach:
Obviously I have a biased point of view since I'm the president of a military retail business, but I honestly feel military style products are ideal for the light traveler or backpacker. Over the past 2 decades military equipment has become more light, compact and comfortable. More pockets and better designs allow travelers to carry more items comfortably. Today's military cold weather clothing is lighter, warmer and more breathable. Wet weather gear is also more breathable, and military surplus businesses such as Bradley's usually offer a nice selection of bags and backpacks at reasonable prices. There is no question that the military's most current equipment is ideal for tourist travel, and I discovered another benefit while visiting Buenos Aires. While exploring the city I stopped at a restaurant for a meal. As I prepared to leave my waitress asked me how I was planning to return to my hotel. When I stated that I was walking she told me I ventured into the wrong side of town. She explained that tourist don't usually venture where I was, and it wasn't safe to walk the streets after dark. When I told her that I walked for hours to her restaurant and it was dark she told me it only happened because I was a big man and I have "the look." My waitress said in broken English "You are a Marino, si?" Then she pointed at my dog tags. I realized that she thought I was a Marine, and I could also recall hearing others say the word Marino earlier in the day. Looking back on the day's events it is very possible I discouraged some possible thieves because I appeared to be a tough looking Marine. Based on my waitress' advice I allowed her to call a cab, and I rode to my hotel. It is very possible I closely avoided a dangerous situation, and my military clothing and backpack may have helped me.
That being said, the tourist area was lively and extremely interesting.  I was lucky enough to visit several shops and do a bit of light shopping.  Here are some photos of my tourist excursion in Beunos Aires.
What I'm happy I brought to South America:
Lanyard:
This is a very simple item, but bringing a lanyard was wise decision making. I used it to hold my decoy wallet, camera, and hotel key. The lanyard helped keep these essential items centralized and prevented loss or theft.
The large cargo pocket on my military style shorts was ideal for travel. Furthermore, the button down pockets prevents theft.  You can also click on
Polypropylene & Grid Fleece Thermal Underwear:
These items pack away nicely and provided warmth while I was traveling in Patagonia.
Military Style Polar Fleece Items: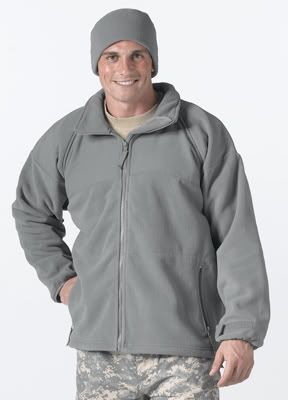 Although these items are a bit bulky, I needed these items at El Calafate (Patagonia). This polypro / polar fleece combination provided all the warmth I needed at that point in the season.  Below is an example of the elements I was up against in the chilly Glaciers at El Calafatein Argentina.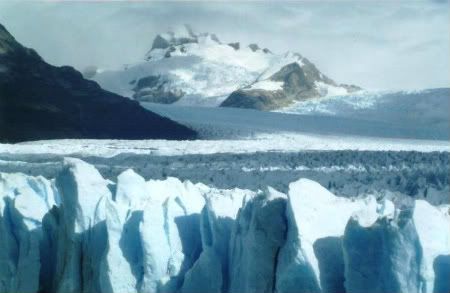 Genuine Issue ICWB Boots:
The temperature and rugged terrain in Patagonia was well suited for Intermediate Cold Weather Boots. During this trip I road marched all day long. I wouldn't be surprised if I walked more in the last 2 weeks than any other time since I was soldier. Having a pair of boots that was comfortable and durable was another wise choice. Again, here is an example of the rugged terrain that made easier to navigate, thanks to the stability of the Intermediate Cold Weather boots.
Dog Tags:
I wore a set of dog tags around my neck at all times. I also attached a dog tag to one of my boots. On these tags I recorded my name, blood type, home town, state, and telephone number. I intentionally didn't include my social security number to ensure it didn't fall into the wrong hands. I didn't run into any serious trouble in South America, but I'm happy I wore a set. I looked at it as an insurance policy.  Again, feel free to click on the link or the picture to be located to where you can purchase your own set of Dog Tags on our website.
The Favorite Parts of My Trip:
• The Glaciers at El Calafate Argentina was breathtakingly beautiful. • Argentina's range feed dry cured beef was incredible. The flavor is substantially different than what we eat in the US. If you go to Argentina you must try a nice steak. • The unspoiled nature of the Patagonia region of Argentina was spectacular. • The Andes Mountains in Chile were majestic. • The beaches and night life in Montevideo were very enjoyable.
What I didn't enjoy:
• The 12 hour flight was exhausting. • The traffic in Buenos Aires is madness. Despite the heavy congestion virtually every driver was traveling too fast. Everyone was jockeying for a better position, and the conditions were slightly dangerous. • Before I left on my vacation I was told Argentina's economy was inexpensive. Perhaps I was spending my money in the wrong places, but I felt Argentina was expensive. Other tourist told me I should explore Peru, Ecuador or Bolivia to find better bargains. • My lack of Spanish caused problems at times, but I have no one to blame but myself. With this being said I had no problem getting by. Between my little Spanish and the average Argentinean's limited English I was able to understand what I needed to know.
Summary:
My trip to South America was very enjoyable. I saw spectacular sights. I expanded my limited Spanish vocabulary. I learned a lot about the South American culture, and I came home with good stories. Despite traveling ultra light I was comfortable, and I attribute a great deal of this comfort to my choice in what I brought on my trip. I strongly recommend some of the military's clothing and equipment to those who like to travel light. This is especially true for back packers. I encourage my customers to experiment with traveling light, and enjoy yourself on your next trip!
If you have any questions about the gear I used on this trip, feel free to drop us an email at service@bradleyssurplus.com or by calling our toll free number at 1 (800) 503-4954.  Our Mail Order team is very well versed in our extensive cold weather systems as well as the various other gear we carry for long and short term trips.  As always we are more than happy to answer any and all inquiries you may have. Sincerely, William G. McKinney Bradley's Military Enterprises President
0 customer responses